Prayer and support for relief from winter storm disasters in Texas
February 21, 2021 at 12:25 p.m.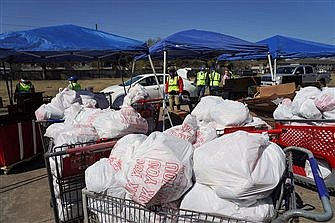 ---
---
Bishop David M. O'Connell, C.M., has shared the following prayer request with the faithful of the Diocese of Trenton: Please pray for all those who have died or have been injured in the recent winter storms, especially in Texas. We pray especially for those whose homes have been destroyed or who are without power and heat and for first responders who are offering assistance to those with urgent needs. In our Lenten almsgiving, let us find concrete ways to help our brothers and sisters. Let us entrust them in prayer to Our Blessed Mother Mary and St. Joseph.

Online donations can be made to Catholic Charities USA at www.CCUSA.online/weather or to local Catholic Charities of the Archdioceses of Galveston-Houston www.catholiccharities.org or San Antonio www.ccaosa.org; and the Dioceses of Dallas www.ccdallas.org; Fort Worth www.catholiccharitiesfortworth.org;Tyler www.ccetx.org; Beaumont www.catholiccharitiesbmt.org; Lubbock www.cclubbock.org; Corpus Christi www.catholiccharities-cc.org; Austin www.ccctx.org.
---
Saturday, September 23, 2023